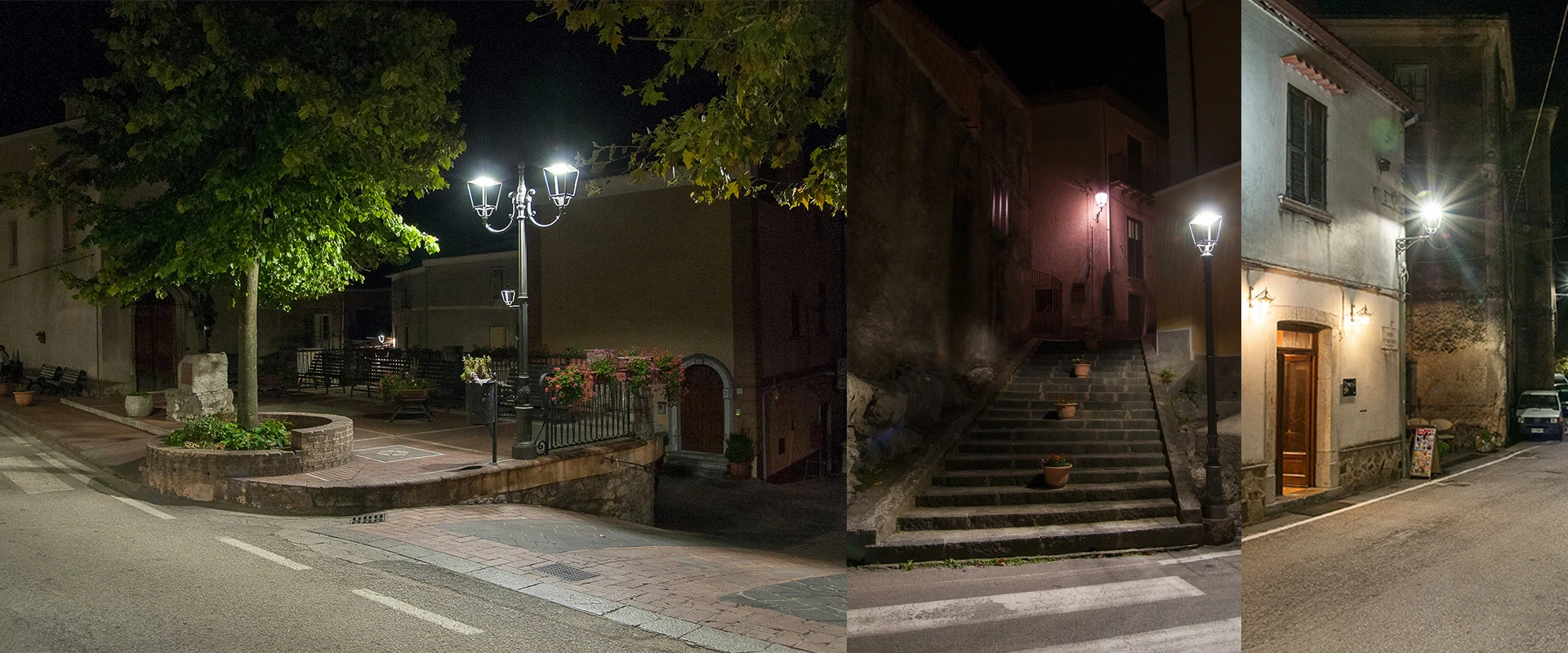 Tradition meets modernity: Energy-efficient LEDs from Osram Opto Semiconductors are set to show the medieval streets of Torraca in the Italian province of Salerno in their true light. Since August, the company Phaenomena has been installing new street lighting in the town which combines the traditional design of the original luminaires with a high level of brightness, high contrast and cost savings – and even reduces light pollution, too. This is achieved through the highly efficient Oslon Square LEDs from Osram Opto Semiconductors used as the light sources and the dimmable control system Osram Optotronic OT 3DIM.
Each luminaire in Torraca contains 24 Osram Oslon Square LEDs with a CRI (color rendering index) of 70 and a color temperature of 4,000 Kelvin as well as a dimmable Optotronic control system. Special programming automatically dims the brightness of the lights from 100 to 70 percent after midnight. Combined with the high efficiency of the LEDs used, this feature will bring about considerable cost savings. Meanwhile, the control system will reduce light pollution as prescribed by regional directives: Lighting profiles with varying degrees of brightness for the different seasons are implemented by means of an integrated clock.
"The decision to use the Oslon Square LEDs from Osram Opto Semiconductors in the luminaires was based on four key indicators: the high quality and reliability of the Osram LEDs, the excellent support team and the programmability of the electronic control systems," explains Angelo Arato, CEO of Phaenomena. Thanks to a new conversion technology that permits the production of much thinner converter layers, the Osram Oslon Squares are particularly resistant to high ambient temperatures. Even with temperatures of up to 135° C in the LED, they still boast a lifetime of well over 50,000 hours. "The improved thermal behavior also increases the luminous efficacy in the application. This, in turn, greatly optimizes the value for money of lighting solutions like the one in Torraca," says Gabriele Giaffreda, who supervised the project at Osram Opto Semiconductors. Phaenomena additionally installed a thermal system in the lighting solution to limit the operating temperature of the integrated LED to 85° C throughout the year.
Another specification for the new LED lighting solution was that the traditional design of the luminaires be maintained, conserving the medieval look of the town. Phaenomena's answer was to use the original metal constructions of the street lights, changing only their inner workings. So far, as many as 40 new street lights have been installed along the main street. Another 660 are to follow at other locations throughout the town. Torraca was classed as a model town for LED use after becoming the first town in Europe to replace its old street lighting with LEDs in 2007. With its new, extremely efficient Osram Oslon Square LEDs, the town now stands to benefit even more from the increased brightness and cost savings.